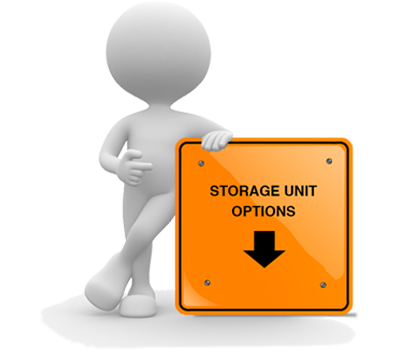 Our Storage Options in Melbourne

There are many storage options, sizes and dimensions at our facility in South Eastern Suburbs, Melbourne which is available so you can choose the size that suits your needs. This gives you flexibility and the opportunity to choose a unit dimension that reflects the physical shapes and sizes of the goods you need to store.
Our storage options in the South Eastern Suburbs, Melbourne range from 5 cubic metres up to 'bedroom' size areas, 'four car garages' and even small warehouses.
Below are a few examples of our more popular and general sizes - but don't be afraid to ask us about unusual sizes or special needs.
Household Storage:

Reclaim that spare room, put the car back in the garage or free up space in the shed so you can actually get to your gardening tools. Make space in your own home by using a self storage unit.
The advantage of Superior Self Storage is that you keep the key to your unit; no-one else has access without your permission. You can access your goods anytime you need and as frequently as you want for no extra cost - it really is your room away from home.

---
Warehouse Storage:

If you need fantastic short term business storage options and solutions in Melbourne with no long term leasing obligations, our mini-warehouse areas remove the risk associated with formal leasing and are available on a month by month basis.
Furthermore, from a purely business point of view, it provides storage flexibility as seasonal demands contract and expand throughout the year. We are happy to negotiate a discounted rate based on fixed short term utilisation for 3, 6, 9 or 12 month periods.
Other benefits include free trailer use, free on-site fork lift & on-site trolley.

---
Shipping Container Storage:

You have the option to store in our brand new 20 ft containers. The containers are in immaculate condition, water tight and durable. Have your container delivered directly to your storage area - we'll allow the shipping company to leave the container on site for a few days (free of charge) while you unload and prepare it for storage in our facility.
All warehouse areas have large roller doors for easy fork lift access.

---
Pallet Racking / Bulk Storage Systems:

Pallet racking storage options for bulky good is another option available for business with short term needs. Using our in-house fork lift, we can store your pallets in a secure warehouse on our premises.
A pallet is usually between 1 - 1.25 cubic metres (1.1 x 1.1 x 1 metre) and charges depend on the term (weekly/monthly/yearly) and amount of bays required. Generally, on a short term basis, pallet storage begins at $10 per week or $40 per month for a single bay and becomes cheaper per pallet as more bays are required.

---
Vehicle Storage:

Going away? Store your car, boat or trailer indoors and undercover within an enclosed warehouse. Depending on the footprint of area required, a medium sized family car can be stored from as little as $150 per month. Alternatively, you can store your vehicle outside in our secure yard from as little as $100 per month.
Store your vehicles in a safe and secure environment and free up your own garages, driveways and yards today!

---
Document Archive Storage:

Simple maths will tell you that the cost of storing your archived documents at $125 per month in one of our 15 cubic metre units will be considerably cheaper than keeping these documents in a commercial office premise.
Whether it be for home office records, tax files or business documentation, Superior Self Storage is an easy and affordable way to store your records and documents. Documents are always accessible and we can arrange the documents to be collected (free of charge - conditions apply) and stored at our premises.
Why not de-clutter your home office, take away those boxes of files you don't need all the time knowing that you can still get them whenever you want and they are stored in a safe, secure dry environment.

---
Business Warehouse Storage:

Our super-size storage spaces - Mini Warehouses - offer a compelling business accommodation option for any enterprise. Our Enterprise Spaces or Mini Warehouses, start at 30 metres square and we have up to 250 metres square in some locations.
All without the risk and obligation of entering a long-term lease, businesses enjoy serious flexibility and savings. In addition, being able to expand or contract with season, demand and business success means that businesses can economise and take the space they need.

---